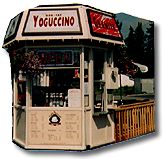 Thank you for your interest in Yoguccino, the Healthy choice in blended-ice drinks.


Experience YOGUCCINO the Blended-Ice Drink. YOGUCCINO is dedicated to quality! Now that you believe in the PROFITABLE and TRAFFIC GENERATING potential of a Blended-Ice Drink, it is time to EXPERIENCE QUALITY!!! YOGUCCINO is Rich, Creamy & Smooth ... yet healthy and tastes too good to be true!!!

If you enjoy a great espresso drink, you must try YOGUCCINO. YOGUCCINO successfully beats all other fresh espresso Blended-Ice Drinks. YOGUCCINO is versatile: add fresh espresso or substitute fresh fruit.

YOGUCCINO IS SO RICH AND CREAMY YOU'LL FORGET IT IS HEALTHY TOO.